Now, I thought last year's Top 50 Horror Movies All-Time was a pretty tough list to compile, but this year's Top 50 All Time Greatest Horror Novels, Collections and Anthologies was even more difficult.
And I'm not just exaggerating, here. It broke my heart to leave off some titles. Especially the bulk of Ramsey Campbell and John Farris, both of which are authors whom I feel have done some extraordinary things for the genre and literature, in general. And also Peter Straub...hell, if it had been left entirely up to me, he would have gotten at least ten of the fifty spots on the list.
Robert R. McCammon, Anne Rice...and not to mention the authors who aren't generally considered genre writers, but have contributed works we felt deserved special notice.
You will notice the list is a bit King heavy, but in our opinion King's works have been more influential on the genre than any other living or dead author in the history of literature.
As you'll see, most of the books on our list come from the 70s and 80s. Very few from the 1990s. Nothing beyond that decade on this list. Again, see my reasoning why above.
But the biggest problem we came across was that the list was just too small and we had to leave off a lot newer titles that we all felt should have been included; but we could not turn away the classics just to include something like Brian Keene's "The Rising", the book we could all agree was probably single handedly responsible for bringing the zombies back to horror fiction. So if you're coming to this list looking for titles that have come out in the last five or less years, you ain't gonna find them here. And why would you? Five years, hell, even ten years in most cases, isn't enough time to really put a work of fiction into perspective against such giants of the genre as Poe's collected works or even something so modern (?) as Stephen King's "The Shining".
Another problem I found was that it was way too easy to fall into the trap of picking only the books I love. But I'm lucky that most of the people on staff at The Black Glove have read at least as many genre and non-genre works as myself, maybe even more.
But those issues aside, I think you'll find the titles on our Top 50 list cover everything from alien invaders to psycho killers, from lone blood thirsty vampires -both classic and modern- to brain munching zombie masses.
And we tried to be fair in choosing not only the greats in novel format, but also single author short story collections and multi-author anthologies, put together by some of the greatest editors in the industry.
50. Turn of the Screw by Henry James (1898)
49. They Thirst by Robert R. McCammon (1981)
48. The Watchers by Dean Koontz (1987)
47. The Strange Case of Dr. Jekyll and Mr. Hyde by Robert Louis Stevenson (1886)
46. The Stand by Stephen King (1978)
45. The Shining by Stephen King (1977)
44. The Night Shift by Stephen King (1978)
43. The Lottery and Others by Shirley Jackson (1948)
42. The Light at the End by John Skipp and Craig Spector (1986)
41. The Keep by F. Paul Wilson (1981)
40. The Island of Dr. Moreau by H.G. Wells (1896)
39. The Haunting of Hill House by Shirley Jackson (1959)
38. The Fog by James Herbert (1975)
37. The Exorcist by William Peter Blatty (1971)
36. The Doll Who Ate His Mother by Ramsey Campbell (1976)
35. The Dark Descent by David G. Hartwell (1987-1990)
34. The Dark Country by Dennis Etchison (1982)
33. The Dark by James Herbert (1980)
32. The Damnation Game by Clive Barker (1985)
31. The Collected Works of Edgar Allan Poe (1832-1849)
30. The Collected Works of Ambrose Bierce by Ambrose Bierce (1842-1914)
29. The Collected Works of Algernon Blackwood (1889-1948)
28. The Collected Ghost Stories of M.R. James (1931)
27. The Cellar by Richard Laymon (1980)
26. The Book of the Dead and Book of the Dead: Still Dead edited by John Skipp and Craig Spector (1989-1992)
25. Tales of Horror and the Supernatural by Arthur Machen (1948)
24. Summer of Night by Dan Simmons (1991)
23. Song of Kali by Dan Simmons (1985)
22. Something Wicked This Way Comes by Ray Bradbury (1962)
21. Skeleton Crew by Stephen King (1985)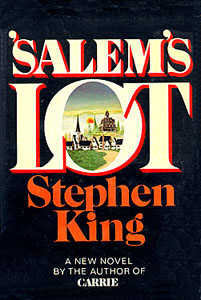 20. Salem's Lot by Stephen King (1975)
19. Rosemary's Baby by Ira Levin (1967)
18. Psycho by Robert Bloch (1959)
17. Phantoms by Dean Koontz (1983)
16. Pet Semetary by Stephen King (1983)
15. October Country by Ray Bradbury (1955)
14. Lost Souls by Poppy Z. Brite (1992)
13. IT by Stephen King (1986)
12. Interview With the Vampire by Anne Rice (1976)
11. I Am Legend by Richard Matheson (1954)
10. Hell House by Richard Matheson (1953)
9. Ghost Story by Peter Straub (1979)
8. Frankenstein by Mary Shelley (1818)
7. Dracula by Bram Stoker (1897)
6. Different Seasons by Stephen King (1982)
5. Carrie by Stephen King (1974)
4. Boy's Life by Robert R. McCammon (1991)
3. Books of Blood (1-6) by Clive Barker (1984-1986)
2. At the Mountains of Madness and Others by H.P. Lovecraft (1936)
1. All Heads Turn When the Hunt Goes By by John Farris (1977)
--Nickolas Cook