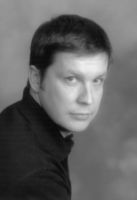 Interview conducted by MyMiserys (aka Kimberly Cook)
1. How old were you when you wrote what you consider your first story?
I wrote in school, but it was essentially a chore and I don't remember any of
those stories. I consider my first story to be the first story I wrote for
pleasure and I didn't write that until I was 30.
2. What inspired you to write it?
I've always been a daydreamer with stories in my head, but I hadn't had the
inclination or the time to write them down. I was busy with other pursuits. That
changed when I left England for the US. I had a lot of time on my hands because of
immigration restrictions, so I indulged myself. In the months leading up to my
move to America, ideas had been building up in my head, so I was raring to go once
I reached the US. I'm probably the only writer to ever say the Immigration and
Naturalization Service was my inspiration. :)
3. What was the first book you wrote?
My first book was ACCIDENTS WAITING TO HAPPEN. This was also my first published
book. I'd gotten the idea for story the while watching 60 Minutes. They had a
short piece about people who traded life insurance policies on the living. I saw
that and knew I had an idea for a book.
4. Of all the books you've written, which is your favorite?
That's mean. All my books are special. They are my children. I can't have
favorites. They'll get upset. However, as long as you promise not to tell my other
books, I would have to say, PAYING THE PIPER. It's the one that gives me the most
satisfaction and think it's a great tale. I'd also say I have strong feelings for
THE SCRUBS and ROAD RASH too. THE SCRUBS is the most vivid and wild story I've
written and ROAD RASH is exotic with an unexpected conclusion.
5. Which book would you like to forget you wrote?
Hand on heart, there isn't a book I'd like to forget, but I have to admit that
with every book I've written I would like to take them all back and give them
another rewrite. The problem is that I see cracks and weaknesses in all of them
that I didn't see at the time and I'd love the chance to make improvements. Then
again, I'll never be totally satisfied with anything I write. It'll never be
perfect.
6. Who is the most influential person in your life?
I'd have to say my wife. She's my partner when it comes to my writing. She's my
first reader and sounding board. No one sees anything without her input.
7. Who is your favorite author?
That's hard. I think it depends on the day. It's a dogfight between James Herbert,
Richard Matheson, Reginald Hill and Raymond Chandler. One of these people wins out
only to lose the next day. I say these four people because they've each influenced
me as a writer and continue to inspire me.
8. If you could only own one book, what would it be?
Again, a hard one. Can there ever be just one book? I think my heart would say THE
LONG GOODBYE by Raymond Chandler. Don't ask me why, because I'll change my mind
for something else.
9. When and where do you write?
I write in my home office with my dog, Royston, at my side in the "good" chair. I
treat writing like a day job and I start at nine and try to be finished by five,
but sometimes the boss in my head makes me stay late.
10. Do you have a "day job?"
Writing is my day job, but my background is engineering and I spent a lot of years
in the oil and gas industries.
11. Do you have a "dream job?"
My dream job would be a writer with more contracts than I could handle. I'd also
like to go back to my other love of motor racing.
12. If you could live anywhere in the world, where would it be and why?
I'd love to live in Costa Rica. I've traveled extensively and Costa Rica is my
favorite country. I love Central America and Costa Rica is its jewel. I'd love to
live in the mountains or close to the ocean. I could be very happy there.
13. What is your guilty pleasure?
Cars. I know it's not eco-friendly, but I love a fast car. I can't resist
something with plenty of grunt under the hood and a chassis that can corner. There
is no substitute. I do recycle and conserve to make up for it. :-)
BIO:
Simon Wood is an ex-racecar driver, a licensed pilot and an occasional private
investigator. He shares his world with his American wife, Julie. Their lives are
dominated by a longhaired dachshund and five cats. He's had over 150 stories and
articles published. His short fiction has appeared in a variety of magazines
anthologies, such as Seattle Noir, Thriller 2 and Woman's World. He's a frequent
contributor to Writer's Digest. He's the Anthony Award winning author of Working
Stiffs, Accidents Waiting to Happen, Paying the Piper and We All Fall Down. As
Simon Janus, he's the author of The Scrubs and Road Rash. His latest books are the
thriller, Terminated, and the short story collection, Asking for Trouble. Curious
people can learn more at
http://www.facebook.com/l/25c03;www.simonwood.net
.
--MyMiserys
(The Black Glove thanks Simon for his time and effort)