(Author Nick Pollotta)
by Bill Lindblad
I've lost count of how many times I've recommended this series over the years. It is a horror series; it is also a fantasy series, action/adventure, humor, and sometimes mystery series. It offers something for many types of fan, and because of that lends itself easily to recommendation.
Even better, it's successful at delivering what is promised. Nick Pollotta takes the RPG setting of Bureau 13: Stalking the Night Fantastic and crafts novels around it for this series. The fairly obscure game is a horror/action role playing game designed with an eye toward lighter gameplay; the players take on the roles of agents for a secret government agency tasked with eliminating monsters, demons, enemy cultists and more. Pollotta takes the basic idea and toys with it, sending a team of specialists to handle extraordinary foes and situations. Along the way he finds the opportunity to elicit humor from various sources familiar to the reader, from soul-sucking swords to various types of werecreature.
Two things make the books distinctive; the first is the humor, which is remarkably well handled. There is a range shown in the comedic side of the storytelling, generally focusing on wit but occasionally sidling into broad farce as a mechanism to control the pace of the action. The second is the uncertainty associated with the characters. Having taken the time to develop each character's personality, the author does not hesitate to kill or maim them as the story requires. What results are action stories which are a cut above normal, where the reader experiences actual suspense as they follow a favorite hero or heroine into any given conflict... and, being adventure stories at their core, there are a stream of conflicts in each book. In keeping with the horror aspect of the books, innocence is no guarantor of survival and success rarely comes without a bloody price. The author uses rapid pacing to keep the reader off-balance, maximizing the effect of both the humor and horror elements. He also takes an intentionally casual tone in his writing, which works well for the style of stories being told.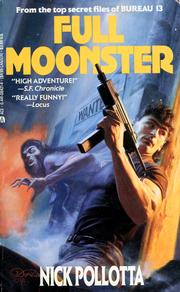 WORKS:
BUREAU 13 (also released as JUDGMENT NIGHT)
DOOMSDAY EXAM
FULL MOONSTER
DAMNED NATION
Short fiction: "Upgrading", "The Collar" and "Initiation"
(Visit Nick Pollota at his official
Amazon page
)
--Bill Lindblad