A few months ago staff writer/reviewer Carey Copeland took a stab at a horror playlist for the first time and won over readers with his ecclectic list of songs. He had so many more he wanted to include that first time that we just had to ask him for another one. So get ready for Carey's second horror playlist...it's full of surprises.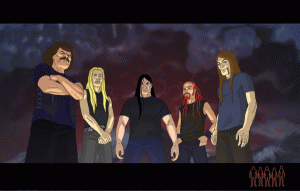 Dethklok: Death album 1@ 2
Another band that doesn't exist. I like the Gorillaz but this is my cartoon band of choice. If you have never watched Metalocalypse on "Adult Swim," you need to. Dethklok is the "Spinal Tap" of cartoons. They are very symphonic metal similar to Yngwie Malmsteen or even King Diamond. Nathan Explosion's deep growl reminds me of Glen Danzig.
Apollo 440: Don't Fear the Reaper
The original song kicks ass. I heard this version at a place I used to frequent in the 90's called "Club 5." It was a trip to actually hear a techno remake of this song. I was amazed because it works. I finally asked the DJ who this was and he told me that it was Apollo 440. I started looking and I found this on a 12" special edition vinyl.
Rick Braun: Oh, Calico, When You Were Young
MUSICAL CRACK!!!!!!! This is a phrase I came up with meaning you can't get enough. You want more. This song is perfection. Yeah I used to play trumpet but that's not it. The song when you clear your mind just seems so perfect. It makes you feel good and it stimulates your brain so you want it to keep going.
Boney James: Boneyizm
I like this song because it reminds me of my younger years. It was one of my selections when I would go out on a date and we would come back to my place. It's just a sexy damn song.
Rick Braun and Boney James: Notorious
See above… This is a song that will help in the bedroom. Nuff said!
Gerard McMann: Cry Little Sister
"LOST BOYS!" This song rocks. It has a soundtrack feel to it. You could "vamp" out and walk around with this song playing.
Jay Gordon: Slept So Long
I liked "Queen of the Damned." I like Jay Gordon but I also like "Orgy." About the only song of theirs I ever heard was "Blue Monday" and that was a remake of a New Order song. If you had a chance to hear the other songs on their album, you would see what I'm talking about.
Steel Dragon: Livin' the Life
A fictitious band from the movie "Rock Star" that kicks ass! This song would be my theme song from my 20's. It has Zakk Wylde and Jeff Pilson. I just wish they were real and had more albums.
Alice in Chains: Your Decision
This is from their new album. This song makes me think of the old AIC with Layne. It has a roll to it. It flows and gives you pure listening satisfaction.
Limp Bizkit: The One
This is a good "pissed off at my girlfriend for breaking up with me" song. Fred "Represent the west side!" (sy-eide)
--Carey Copeland