By Lisa Morton
It's always a good sign when it's hard to choose a list of top films because of an embarrassment of riches, not because of embarrassing films.
While Hollywood's double-aughts seemed to produce little more than remakes, sequels, adaptations of video-games and other pathetic dreck, horror seemed to flourish in the east.
Prior to the late '90s, you could practically count on the fingers of one hand the number of interesting horror films ever produced in Hong Kong or Korea ; Japan had more of a history, with classics like KWAIDAN and UGETSU, but those were more like stand-outs than typical examples of the films being produced at the time.
No, it took the late '90s, with the massive breakout success of Japan's THE RING, to see Asia leap into its own decade of horror. Suddenly not only were the major Asian film production centers making horror movies right and left, but they were making really good ones, the kind of films that could compete in local awards with mainstream dramas, romantic comedies, and action films.
Now, a few brief words about this list: Because there was so much good stuff to choose from, I ended up throwing out a few films for somewhat arbitrary reasons: Thailand's TROPICAL MALADY, for instance, is really only half a horror film (the other half is a sweet love story); and despite its reputation, I just can't join in the praise for AUDITION, which alternately bored me and left me guffawing at its supporters who see it as some feminist statement. Conversely, I have included crossover films, thrillers, and even a so-called children's film (SPIRITED AWAY) because they all depended on disturbing content throughout and succeeded in creating uniquely unsettling milieus.
There were a few more films it really pained me to exclude, and if this list was longer it would also name Hong Kong's KOMA and HOME SWEET HOME – two superb examples of horror films driven by female leads; DOUBLE VISION, a creepy Taiwanese/Hong Kong co-production about Taoist magic; H: THE MOVIE and TELL ME SOMETHING, two disturbing Korean mysteries starring A TALE OF TWO SISTERS' astonishing Yum Jeung-ah; TOKYO GORE POLICE and STACY, two smart and bloody Japanese dark satires; and virtually everything directed by Hong Kong's Soi Cheang (especially DIAMOND HILL, NEW BLOOD, and the afore-mentioned HOME SWEET HOME).
So, enough with the explanation. Here, without further preamble, are 13 horror movies, listed in alphabetical order, that prove exactly why the east is red.
13. BATTLE ROYALE (Japan, 2000) – Director Kinji Fukasaku's last film was the ultimate horror/science fiction/action/social commentary mashup. Painting a terrifying vision of a (believable) future in which children are expendable in the name of bureaucracy, the film is smart, technically flawless, and features two terrific villain performances: Cult icon Takeshi Kitano as the take-no-prisoners teacher, and KILL BILL's Chiaki Kuriyama as the psycho girl out to waste the rest of her class.
12. DARK WATER (Japan, 2002) – THE RING's director Hideo Nakata adapted another story by Koji Suzuki and came up with this winner – a chilling, low-key story about urban paranoia and the desperate love of parents for their children. Claustrophobic, drenched in details, and very unsettling.
11. DEATH NOTE (1 & 2) (Japan, 2006) – I'm cheating here because I think these two films really do need to be seen together. Based on a hit manga and anime series, the DEATH NOTE films are insanely smart, witty, tense, and a vastly entertaining study in how absolute power can corrupt absolutely. BATTLE ROYALE's Tatsuya Fujiwara is darn near brilliant as Light, the virtuous young law student who suddenly gains the power to kill with utter immunity, and who moves from light to monstrous darkness. Directed by Shusuke Taneko, you should see these now before they're dumbed down and ruined forever by the inevitable American remake.
10. DOG BITE DOG (Hong Kong, 2006) – I'm not kidding when I say Soi Cheang's nihilistic masterpiece may be the darkest film ever made. Brilliantly made and superbly acted, this descent into hell will probably leave you feeling like a fish dying on a dock…and for some reason, that's awesome. The simple plot – a cop chases a renegade hitman – is just an excuse to hang Soi's amazing style on…and I think we can safely say that this is the one film on this list least likely to get a Hollywood do-over.
9. THE DORM (Thailand, 2006) – Who could've guessed that a small ghost movie from Thailand would do a better job of channeling the living spirit of Ray Bradbury than anything else made in decades? THE DORM is a beautiful, heartfelt coming-of-age story, in which a troubled boy learns about life from a ghost. Songyos Sugmakana's gem also manages to filter its Bradbury-esque poignancy through a culture that's very different from our own.
8. DUMPLINGS (Hong Kong, 2004) – A shorter version of Fruit Chan's DUMPLINGS is included in the anthology film THREE: EXTREMES, but it's the longer version that I'm recommending here. Shot by the world's finest cinematographer (Christopher Doyle), DUMPLINGS is astonishing on many levels, not least of which is that its incredibly gruesome premise – a woman eats dumplings made from aborted human fetuses to keep her youth – is laid out in the beginning of the film, not used as a surprise reveal near the middle or end. Bai Ling – usually reduced in Hollywood to kitschy supporting roles in movies like SKY CAPTAIN AND THE WORLD OF TOMORROW – won virtually every acting award in Asia for her performance as Aunt Mei, the enigmatic but overtly-sexual "doctor" behind the dumplings.
7. THE EYE (Hong Kong, 2002) – The movie that really put the Pang Brothers on the map is, in many regards, a fairly typical ghost movie, featuring lots of greenish-lit phantoms with long black hair…but it's really the superb performance of lead actress Angelica Lee Sin-je that catapults it onto this best-of list. You know the story – a girl gets an eye operation, and can suddenly see ghosts – but Lee finds layers of psychological depth and genuine terror in the character. Unfortunately a sequel with another fine actress, Shu Qi, succumbed to wild bounds of illogic and failed on virtually every level.
6. THE HOST (South Korea, 2006) – Bong Joon-ho followed up his stunning BARKING DOGS NEVER BITE and MEMORIES OF MURDER with the one giant monster flick on this list, and what a follow-up THE HOST is. One part social satire and five parts kickass monster, THE HOST features one of the world's great actors, Song Kang-ho (with blonde hair, yet) as the luckless guy who has to pull his dysfunctional family together to rescue his sister from the clutches of the oversized thing rampaging through Seoul. The CGI is fantastic, the creature itself is well-designed, and the shots of it bearing down on screeching humans are some of the scariest of the decade.
5. ONE NITE IN MONGKOK (Hong Kong, 2004) – Derek Yee's incredibly tense thriller may not feature any supernatural beasties, but it's one of the most harrowing rides of the last ten years, with a villain who is so dull and stupid that you'll likely recognize him immediately (and cringe). Two of Hong Kong's prettiest young stars, Cecelia Cheung and Daniel Wu, give fine performances as the mainland waifs trapped in Hong Kong when a hit goes wrong; but the movie really belongs to Alex Fong as the beleaguered cop whose Christmas Eve has just gone down the drain. Clip your nails before you see this one.
4. SPIRITED AWAY (Japan, 2001) – So you're thinking, Cripes, a CARTOON?! Yeah, but here's the first fifteen minutes: A young girl is visiting an abandoned amusement park with her parents when the sun sets, her parents turn into pigs, her escape routes are cut off, and she's surrounded by ghosts. SPIRITED AWAY continues on from there, offering a friendly spider-man, a scary stalker called "No-Face", and a flock of little paper birds that scissor up anything they come across. All of this weirdness is rendered in Hayao Miyazaki's exquisite images, and aided by Joe Hisaishi's brilliant score. Without question the most beautiful film on this list, but also genuinely strange and disturbing…and possibly the finest film by one of the world's great filmmakers.
3. SYMPATHY FOR LADY VENGEANCE (South Korea, 2005) – I know Park Chan-wook's OLD BOY is generally considered his masterpiece, but for my money this film is both more stylistic and far creepier. For one thing, it has at least one major set piece that's so intense and gruesome I wish I'd thought of it first: Our heroine gathers the surviving family members of a killer's victims together in an isolated building, and hands them the killer, some weapons, and a big whopping sheet of plastic. In an American film, somebody would argue the bereaved out of any act of violence…but not here. The result is wince-inducing and blackly satisfying, and that scene alone would earn it a place on this list – but it also has a woman being poisoned slowly with bleach, a custom-made gun that's only accurate at about six feet, and OLD BOY's Choi Min-sik as one of the most horrific child killers ever put on film. All this, and an astonishing lead performance from Lee Yeong-ae as the woman who silently serves time for a murder she didn't commit, planning her retribution the whole time.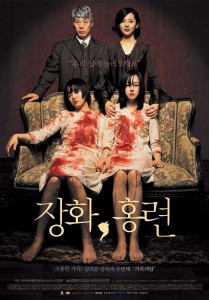 2. A TALE OF TWO SISTERS (South Korea, 2003) – You don't need to hear me blather on again about my love for this one, so let's just keep it simple: The best horror movie of the last two decades. From anywhere in the world. Period. Kim Ji-woon's instant classic is terrifying, gorgeous, funny, perfectly made and a brilliant example of the intersection between horror and tragedy. And it features one of horror cinema's great performances, from Yum Jeung-ah as the brittle, psychotic stepmother. If you see only one film on this list, this is it right here.
1. VISIBLE SECRET (Hong Kong, 2001) – This one was a surprise, given that director Ann Hui is usually known for her socially conscious dramas like ORDINARY HEROES and THE POSTMODERN LIFE OF MY AUNT…but Hui is a superb filmmaker in any genre, and she managed to turn what could have been a mere ripoff of THE SIXTH SENSE into something unnerving, wild, and very entertaining. Whereas THE SIXTH SENSE gave us a big-eyed precocious kid as the ghost-seer, VISIBLE SECRET offers a hot babe in the form of the luscious Shu Qi. The film's poster alone – featuring an eerie image of a ghostly woman in a subway train – was briefly banned in Hong Kong for unnerving subway riders.
(Due to various online legal issues, there is no video trailer available for this film. Sorry, folks.)
--Lisa Morton