by Nanci Kalanta
Growing up my parents instilled the love of two things in me; music and reading. We didn't watch a whole lot of television and there were some nights where we would all be reading after dinner with music playing in the background.
I grew up in the 60's and 70's and the music from that time was amazing and I listened to everything from Patsy Cline to Led Zepplin and show tunes from various musicals on Broadway (Hair was my favorite) so I've got pretty eclectic taste in music.
When Nick asked me to check my playlist, I found the following in my Top 10:
1. East Jesus Nowhere by Green Day. I love socially conscience bands.
2. Acid Jet by Letters to Cleo – I once requested this on the radio and the DJ said he couldn't play it for me because he lacked the proper female body part.
3. Little Smirk by Theory of a Dead Man – You really have to wonder who got burned to write that song.
4. Blind Man by Black Stone Cherry – there is just something about this song that speaks to me.
5. Your Decision by Alice in Chains – it's so great to see this seminal "grunge" band back together again after a 14-year hiatus.
6. Wounded Bird by the Black Crowes – I think I like these guys because their music has heavy "classic rock" influence. Wounded Bird is a song about letting go and reminds me a lot of REM's Try Not to Breath
7. Go With the Flow by Queens of the Stone Age – This song really gets me moving and is great to work out to.
8. Common Disaster by the Cowboy Junkies – A song about revenge that I heard for the first time when I was thinking about karmic retribution on a really, really bad manager that I worked with. It seemed fitting that it would come along at that time in my life.
9. Sunset Grill by Don Henley – This song always reminds me of when I was living in Miami, first time on my own. I remember going down to the beach to watch the sunset and the homeless folks settling in for the night. There was a "seedy" diner nearby and I always equate the lyrics with that place and time.
10. Whiter Shade of Pale by Procol Harem – one of my favorite movies is The Net with Sandra Bullock and this song was featured prominently in the beginning of the movie. For me it signifies the loneliness of a sheltered existence.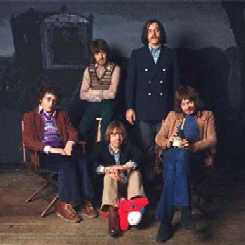 So there you have it – the top ten songs on my iPod. Upon closer inspection you'll see some Beatles, Moody Blues, Yes, Genesis (Follow You, Follow Me was our wedding song) and Emerson, Lake and Palmer, alongside Stone Temple Pilots, REM, Foo Fighters, Puddle of Mud and even some Zebra.
--Nanci Kalanta
(Nanci Kalanta is a long time fan of dark fiction, a diligent book collector and a full time computer geek. She assumed editorial and ownership of Horror World in 2003 and has expanded its scope to include, amongst other things, the premier horror podcast, Pod Of Horror.)
Editor-Horror World
www.horrorworld.org