by Mari Adkins
So I thought to myself that putting together a "top ten" list would be simple enough. I'd just open WinAmp or my cell phone and click "most played". Then I thought, no, I'll list my ten favorite songs. And of course that infamous Julie Andrews song started playing in my head. You know the one. I screamed, "Enough!" and got myself back on track and started looking through the music directory on my hard drive. Then I remembered how I like to make soundtracks to use for mood setting when I write. Like a lot of other writers, I can't listen to songs while I'm writing -- I end up singing along and not concentrating or writing. But I do like to listen to certain music while I'm doing research or preparing my workspace.
What I listen to varies depending on what I happen to be working on. When I was first writing and then editing Midnight, I created a "Harlan Vampires" directory on my hard drive. The 114 number collection is heavy with The Crüxshadows, Metallica, Candlebox, The Smashing Pumpkins, Godsmack, Stone Temple Pilots, and littered with many others. When I started on Eventide, I created two directories: "Michael & Laurel" and "Mari's 50s & 60s". The first is loaded with Elvis Presley, The Coasters, Johnny Cash, The Everly Brothers, and early Rolling Stones. The second ended up dropping the "50s" and became "Mari's 60s & 70s" and has many subdirectories of full albums or collections from The Beatles, The Who, Three Dog Night, The Doors, Jim Croce, Lynyrd Skynyrd, and many more. (Listening to the 60s in chronological order is an awesome study in music evolution, I think. Fascinating stuff.)
So now I'm going to give you my "top ten" from these three directories -- and the choice was difficult at best. Here they are in random order:
While My Guitar Gently Weeps - The Beatles.
I've been a fan of this song for as long as I can remember. You can't miss with anything Eric Clapton plays guitar on (although I didn't know this bit of trivia until I was in my teens and couldn't appreciate that until much later). George Harrison's vocals are awesome. The melody is as timeless as it is haunting and memorable. In Eventide, one of the characters struggles with the inability to stand up for herself. Her lover tries to teach her better, to show her what her life could be life if she would learn to ask for things for herself--at least now and then. This song, then, easily could be 'Laurel's Theme'.
Favorite lyric:
"I don't know why nobody told you
how to unfold your love
I don't how someone controlled you
they bought and sold you"
Somewhere I Belong - Linkin Park.
Often it's the music that grabs me long before I ever pay attention to the lyrics. For this song, a little bit of both happened for me. The drums along with the bass set a fast, emotional pace--the drum beat clusters in places and grow more frequent. While the song is more of a metaphor for Chester Bennington's self-harm addiction, it speaks to me in a different way--the strong emotional need we have to know we're a part of the greater whole, that somebody gives a damn, that we belong.
Favorite lyric:
"I wanna feel what I thought was never real...
I wanna let go of the pain I've held so long"
Roses Are Red (My Love) - Bobby Vinton.
This is one of those songs you run into in either your mother's or grandmother's music collection, one of the songs she sang low or hummed while working in the kitchen. I added this song to my 50s and 60s collection because after I read the lyrics it pretty much told Michael's and Laurel's story and the chorus reminds me of the kind of syrupy sweet thing they would say to each other.
Favorite lyric:
"Then I went far away,
And you found someone new
I read your letter, dear,
And I wrote back to you"
The World I Know - Collective Soul.
Another song with terrific drum and bass. This song made it into the Harlan Vampires directory early in the writing process. It reminds me of Harlan and the emotional growth I went through when I lived there. In late 2007, as I gave a friend a tour of the county, as I turned the car onto Ivy Hill in downtown Harlan, this song came on the cd player. I had to stop I was laughing so hard.
Favorite lyric:
"I step to the edge
to see my world below
And I laugh at myself while the tears roll down
'Cause it's the world I know"
Rhythm of the Falling Rain - The Cascades.
It doesn't hurt that in the opening and closing of this song we do hear the rain, and it's carried throughout with the percussion (and at the end with the lyric "pitter patter, pitter patter"). This song is in the Michael and Laurel directory for two reasons: Mood. Michael. Michael broods. He broods about everything at every opportunity he gets. And it almost never fails that somewhere along the way in his visits with Laurel that he manages to behave in some jackass manner which he must make up for--and then chides himself for his reckless behavior.
Favorite lyric:
"Listen to the rhythm of the falling rain
Telling me just what a fool I've been
I wish that it would go and let me cry in vain
And let me be alone again"
Love Song for a Vampire - Annie Lennox.
Oh, how I adore Annie Lennox. I could sit and listen to her sing all day. I have difficulty listening to this song without coming out the other side a blubbering mess; I sob my way through it. The melody is almost like a soothing lullaby but with definite undertones of heartbreak. The synthesizer sounds very much like the steady rhythm of a heartbeat and continues throughout the piece. Near the end, it intensifies as the emotional weight increases. This song contains many different layers of meaning for me--and it fits in with both Eventide and Midnight.
Favorite lyric:
"Oh loneliness - oh hopelessness
To search the ends of time
For there is in all the world
No greater love than mine"
Sound of Silence - Simon & Garfunkel.
I've liked this song since I was very small. Something about the melody caught my attention early on, although it would be twenty-some years later before I could grasp the lyrics. The lyrics aside, the melody gives me chills. It starts slow, builds, reaches a crescendo, then slows again. This one is in the 50s and 60s folder because of the time of its release and because it fits in with Michael's idiom so well.
Favorite lyric:
"Hello, darkness, my old friend
I've come to talk to you again"
Ava Adore - The Smashing Pumpkins.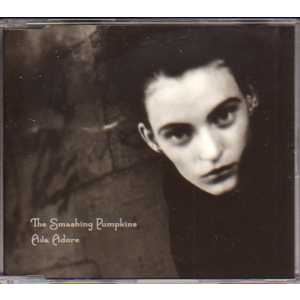 It's been my experience that The Smashing Pumpkins is a band people love or avoid. I'm a fan from way back. They're one of the few groups I own an entire collection of. They have few songs I don't care for. "Ava Adore" isn't one of those songs I heard and said, "Oh my gods, I'll cherish this forever!" But it is one of those songs that grew on me with time. Different parts have different meanings for me, and I'm sure what I think and feel about them is far removed from what Billy Corgan had in mind when he wrote them. I had WinAmp on random one day while I wrote, and this song came on. The line "In you I taste god" caught my attention. I must have repeated the song ten times and smiled each time. In Midnight's Heir, Sami makes a similar remark about the taste of her lover's blood.
Favorite line:
"In you I taste god"
It's Late - Ricky Nelson.
This song is in the Michael and Laurel directory because I needed a song for them to dance to in a given scene. I researched to find what was popular on a given date, got a list together, and found the song that most suited what I needed and most fit the two of them. But they danced long after sundown, long after the local Harlan radio station had signed off the air for the evening, so this is the song Laurel hummed and sang for them.
Favorite lyric:
"Look up (look up)
Is that the moon we see?
Can't be (can't be)
Looks like the sun to me
It's late (it's late)"
Kentucky Rain - Elvis Presley.
This is me outing myself as an Elvis fan. "Hello, my name is Mari, and I'm a fan of Elvis Presley." When I close my eyes and think of Harlan County, what images come to mind are always of the rain and dense fog--what I call "Harlan in its natural state".
Favorite lyric:
"I've loved you much too long
And my love's too strong
To let you go, never knowing
What went wrong"
--Mari Adkins
Visit Mari Adkins at her official web site
http://mariadkins.com
(The Black Glove thanks Mari for her time and effort in compiling this excellent playlist)