In New Publishers news:
New small press publisher, Bandersnatch Books is the brain child of Rich Ristow and Scott Colbert. As we state on our website,
www.bandersnatchbooks.com
: "Some small presses think they're out to revolutionize the world. Others think there is a small fortune to be made with "The Next Big Thing." We're neither. Bandersnatch Books seeks to publish unique works of novella length fiction, contemporary poetry, narrative experiments, chapbooks, and anything that slips through the cracks of genre convention."
To that end, we're pleased to announce our line up of releases for the next three months.
Decembers sees J. Bruce Fuller's 28 Black Birds at the End of the World, a collection of haiku, from one of the great genre poets.
In January we'll be releasing Death in Common: Poems From Unlikely Victims. We'll also be publishing a collection of Bob Freeman's previously released occult detective stories, entitled That Olde Black Magick.
February brings us two heavyweights, Wrath James White's Asian inspired poetry collection, Vicious Romantic and T.M. Wright's chapbook The People of the Island. We'll also be releasing two other chapbooks by T.M. Wright over the ensuing months as well.
Please visit us at
www.bandersnatchbooks.com
for further information, and you can also follow us on twitter at
www.twitter.com/BandersnatchBks
for up to the minute release information.
In Book News, some new releases just in time for Xmas:
THE WATCHING by Paul Melniczek (limited edition) -
Advance Order
at The Horror Mall
From our friends at
Coscom Entertainment
:
Harrison Howe: RIP
Gina Ranalli: Praise the Dead
Eric S. Brown: Bigfoot War
A.M. Esmonde: Blood Hunger
Chimeraworld #6 (new world disorder) is available now from
Chimericana Books
In the near future, the world awakens to the corporate threat of the New World Order: a leaderless resistance defeats the global elite.
It's becoming more and more obvious that Corporate Profit and the monetary system that drives it allows mankind to commit the most unholy crimes ever fostered upon humanity. Corporate Profit is control. Corporate Profit is secrecy. Corporate Profit is ruthless.
But without 'money', there's no method for generating a momentum to continue to push technology as far as it will go under a military-industrial agenda. Who says so? And also, there's the 'Sword of Damocles' threat of Eugenics associated with the corporate agenda. I personally find the Eugenics pill the most difficult to swallow but history is telling us that's where we're headed so that the Banking Elite can enjoy their planet.
And that's what they truly believe, that it's their planet, that they have the right to it. Not anyone else.
So, cancel Money (most of it's fiat money anyway, based on debt and tending to hyper-inflation), cancel Profit, cancel Private Ownership and Patents, cancel Countries, cancel National Insurance numbers because all these invented concepts increase the likelihood of our demise as a planetary species - our mass murder.
But how can such a liberated civilisation contribute to the proper use of the planet's resources. What is the aim of a planet of willing intelligent people helping the world be a better place? Where's the fun in that?
We need to seriously consider the possibility that Progress can exist without Corporate Profit, that we as a people can cooperate on Free or Open Source projects that help mankind to live in creative harmony. Take away the incentive, release the guilt; destroy the agenda, secrecy and horror of controlled corporate contemporary life.
From JASON HUGHES:
MORAL HORROR
"Some of the material is depraved as hell."- Horrornews.net
"Moral Horror is a teeth-gnashing spectacle of horror and gore that would make any gore hound squirm."- Shriekfreak Quarterly
"Each of the eight stories presented in Moral Horror bring us into the darkest depths of human thought and bring out the basest emotions that lie dormant inside each of us... The stories within are gruesome and terrifying."- Ben Eads, Horror Author
"Not sure what's 'moral' or 'virtuous' about these stories, but if literary depravity's your cup of tea, this is a steaming potful."-Mara Leveritt, #1 Best Selling Author of Devil's Knot and The Boys on the Tracks/ Editor, The Arkansas Times
"This anthology is essentially a testament; chronicling the beast within all humans."- The Dark Fiction Spotlight
Featuring Edgar Allan Poe, Jack London, Elia Wilkinson Peattie, John Berwick Harwood, Elise Hammersberg, Solomohn Ennis, Nick C. Hooper & Henry Muntz
Edited by: Jason Hughes
Available at:
Amazon.com
Barnes & Noble
Bestseller Books
Betterworld Books
Books-A-Million
Borders
Powells
www.myspace.com/headlinesnovel
...and many other book dealing sites
IN STORES NOW
IF IT'S NOT ON THE SHELF, DEMAND YOUR COPY!
New from multi-award winning author, Tom Piccirilli
Description: An ex-cop, Finn was left literally blinded by violence. The one thing he can still see is the body of his wife, Dani, and a crime scene that won't fade from his mind's eye. Now a professor, Finn never would have guessed that an isolated girls' prep school could be every bit as dangerous as city streets. Especially when he stumbles upon a local girl lying in a graveyard in the middle of a raging blizzard.
Finn may live in a world of total darkness, but it's about to get a splash of red. The memories that torment him still have the power to kill, and a group of innocent students has been put in harm's way by a pair of vicious criminals stalking Finn for unknown reasons. Secrets are creeping from the shadows around him—the kind that even a man with perfect vision never sees until it's too late. They're about to become terrifyingly clear to Finn—and it all begins with the scent of blood.
And the reviews are already coming in on another great book from the man himself...
"In Piccirilli's brooding, character-driven chiller, former New York City cop Finn, recently blinded, wallows in his new role as an English teacher at a posh girls' boarding school. A storm looms as Finn and a skeleton staff remain to supervise a handful of girls staying at the school during winter break. Piccirilli (The Fever Kill) harps on his theme of isolation with palpable glee as Finn, surrounded by self-absorbed adolescents and mysterious, brutally violent attackers roaming the campus, grapples with blindness amid a sonar-dulling snowstorm in a remote area with no cellphone service. Terrified of solitude and driven by his cop instincts, Finn embarks on a wrenching journey that exposes the raw emotion of a man nearly destroyed by disability and circumstance."--Publishers Weekly, starred review
"The Christmas recess has just begun at St. Valarian's, a private secondary school for girls in upstate New York. A handful of students and staff are still on campus as a nasty blizzard gathers strength. Finn, a blind and deeply conflicted former NYPD detective, teaches literature at the school and longs to murder Ray, his former police partner. Making his way across campus through the storm, Finn encounters a teenage girl, a townie, who warns him that an "ill will" is coming for him. Soon, students and staff are dying, and Finn must defend himself and the survivors. Shadow Season has enough mystery, suspense, dread, and mayhem to satisfy nearly every crime fan. Characters are well developed, but most maintain a hint of mystery. Finn's students, variously precocious, willful, mocking, and provocative, are totally believable. The blizzard ratchets up tension, as does our eagerness to learn why Finn wants to kill Ray. The portentous "ill will" may be a bit over the top, but the novel is terrific entertainment."- Thomas Gaughan, Booklist
Also, northern Colorado's biggest newspaper, The Coloradoan, had this to say: "This is an intense thriller not for sissies. The complex main character tears into savage situations described with authenticity as he grinds through each crisis while dealing with his blindness.You will appreciate the portrayal of the main character Finn's so-called disability, which really isn't one given the way he knows how to utilize it. The entire plot never lets the reader take a breath and never lets up on the gut-wrenching emotional safari into Finn's world of blackness.The dialogue, plot and the multi-layered character reveals itself to you with hammer blows page after page. Highly recommended for thriller fans who appreciate a quality read."
Order from
Amazon.com
For Piccirilli fans, here's a special treat, Tom talking about the process of writing
SHADOW SEASON
Tom Piccirilli lives in Colorado, where, besides writing, he spends an inordinate amount of time watching trash cult films and reading Gold Medal classic noir and hardboiled novels. He's a fan of Asian cinema, especially horror movies, bullet ballet, pinky violence, and samurai flicks. He also likes walking his dogs around the neighborhood. Are you starting to get the hint that he doesn't have a particularly active social life? Well, to heck with you, buddy, yours isn't much better. Give him any static and he'll smack you in the mush, dig? Tom also enjoys making new friends. He is the author of twenty novels including The Cold Spot, The Midnight Road, The Dead Letters, Headstone City, November Mourns, and A Choir of Ill Children. He's a four-time winner of the Bram Stoker Award and a final nominee for the World Fantasy Award, the International Thriller Writers Award, and Le Grand Prix de L'Imaginaire.
From
Gary McMahon
His first mass market novel HUNGRY HEARTS is out now in the UK and should be out on or before April 2010 in the US. here's a link to the
publisher's website
Also out now is
DIFFERENT SKINS
, a book containing two novellas.
From Bruce Brown, a delightfully tentacled children's book:
It's an all ages introduction to the works of H.P. Lovecraft. The Publisher is Arcana and the release date is January 6th 2010. But it's available for preorder on
Amazon.com
After visiting his father in Butler Sanitarium, young Howard Lovecraft ignores his father's warning and uses the legendary Necronomicon to open a portal to a strange, frozen world filled with horrifying creatures and grave danger. Alone and scared, Howard befriends a hideous creature he names Spot who takes him to the castle of the king where he is captured and sentenced to death.
From Matt Cardin:
Dark Awakenings is now available from
Mythos Books
BLURBS:
"In Dark Awakenings, Cardin proves himself to be an adept in the fullest sense of the word. To both the morbid and the cosmically minded, who may be one and the same, he delivers his visions and nightmares in a master's prose. In the tradition of Poe and Lovecraft, Cardin's accomplishments as a writer are paralleled by his expertise as a literary critic and theorist, as readers can witness in this volume. His analyses of supernatural horror and its practitioners are also dark awakenings in the dual manner of his stories, with one eye on the black abyss and the other on an enlightened transcendence without denomination. Again, this quality of Cardin's work can be seen in the writings of Poe and Lovecraft, two other felicitous freaks who merged the antagonistisms of their imagination into a chimera as awful as it is awe-striking."
— Thomas Ligotti, author of Teatro Grottesco and The Nightmare Factory
"Matt Cardin channels visions of dark, maniacal intensity. His otherworldly divinations will have you lying awake in the dark, counting stars in that most pitiless gulf that yawns above us all. A master of terror and dread, he ranks among the foremost authors of contemporary American horror."
— Laird Barron, author of The Imago Sequence & Other Stories
"Dark Awakenings offers the dream imagery of the best weird fiction but goes even further beyond the ordinary thanks to Matt Cardin's fierce intellect. Haunting stories and insightful essays. This is mandatory reading to prepare for the doom to come."
— Nick Mamatas, author of Move Under Ground
And in films, we have a few new releases...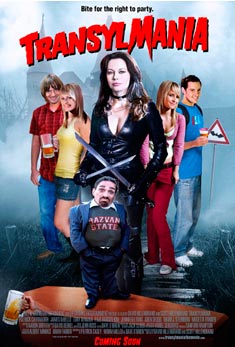 Transylmania
Release date: Dec 04, 2009
Starring: Patrick Cavanaugh, James DeBello, Tony Denman, Paul H. Kim
Transylmania follows college students who agree to study abroad in Romania. The film is being billed as a spoof of vampire films such as Dracula and Interview With a Vampire. The best way to describe this film would be American Pie with vampires.
Trailer:
The Lovely Bones
Release date: Dec 11, 2009
Starring: Mark Wahlberg, Rachel Weisz, Susan Sarandon, Stanley Tucci
Peter Jackson takes a step closer to his horror roots by directing the thriller, The Lovely Bones. Adapted from the book written by Alice Sebold, A girl is murdered at a young age. After her murder she watches over her family and her killer from her own personalized version of heaven.
Trailer:
Sherlock Holmes
Release date Dec 25, 2009
Starring: Robert Downey, Jr., Jude Law, Rachel McAdams,
This new take on Sir Arthur Conan Doyle's characters stars Hollywood heavyweights Robert Downey Jr. and Jude Law. Guy Ritchie directs this story involving the great Sherlock Holmes being presented with the great task of saving the country.
Trailer:
--Steven M. Duarte