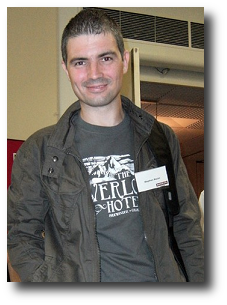 Interview conducted by Steve Jensen
TBG: Tell us a bit about yourself.
SB: I live in South Yorkshire, UK, with my beautiful wife and our two gorgeous sons. My day job is as an underwriter at a finance company, a role which affords me regular income and regular hours. Since I was a child I was vaguely aware that I wanted to write, but it was only in 2006 that I seriously started submitting short stories. Since then I've had a dozen or so tales published in various areas of the small press, and I've been pleased so far with how they've been received. In relative terms, though, I'm still a newcomer.
TBG: What are your influences?
SB: My parents are to blame. They encouraged my predilection for reading when I was a child, even going to the extent of enrolling me in our local library. They never discouraged my yearning for horror, quite the opposite. I became hooked on the Three Investigators mysteries series of books created by Robert Arthur, which were everywhere in the 1970s and 80s. By name association I gravitated onto the Alfred Hitchcock anthologies, where I discovered writers like Robert Bloch, Patricia Highsmith, Edward D Hoch, Donald E Westlake, Jack Finney, etc. I also began to read the Sherlock Holmes stories at that time. The leap from dark suspense to horror was a short one. Because of this background in fiction, I tend to choose the short story and the novella as my preferred length to read.
TBG: So you're relatively new to being a published writer; any tips for the aspiring writer that might be reading this?
SB: I'd say the same as most people; write and read a great deal. Read as much as you can, outside the genre as much as within it. Learn the history; research the classics that have come before. Develop the ability to accept rejection. Don't take it personally. Research your markets. I volunteered to act as a slush reader for a horror magazine as a way of selfishly using it for my own benefit; I could see the mistakes that many writers were making, spotted the common errors to avoid. Without doubt, the more you write and submit, the more you'll improve. There's no easy route. The second best advice I ever read was by Mort Castle, and I'm paraphrasing here – "Skill, Luck, Tenacity; a writer needs only 2 of these 3 attributes to be successful."
TBG: What is the best advice you ever read?
SB: My dad once said to me about five years ago, "no one's going to knock on your door and ask if you've ever written anything." And do you know what? - he had a point.
TBG:What have you found is the hardest thing about writing? And balancing that, what do you enjoy about it?
SB: Once I'd made the conscious decision to start writing and submitting work, I realised the only horror magazine I knew of was The Third Alternative, and that was on a hiatus (soon to re-emerge as Black Static). So I did a little digging on the internet and discovered Ralan and Duotrope. Those two sites, as well as educating me in potential fiction markets, also introduced me to the riches that lay within the small presses. The hardest thing after that was balancing the time I needed to write, with the commitments I had as a husband and father, and the pressures of working a day job.
Enjoyment comes from the need to create something, even if it's as trivial as a piece of fiction. I look back on my work over the past decade and I can see that my writing is improving all the time. As well as the technical aspects, I think you develop the themes you want to speak about as you journey through life; in the last six years I've experienced acute emotional levels, with the birth of my two sons and my dad's death last year. I find I draw on these wells of emotion as touchstones in my fiction. The one regret I have is that I left it so late to write, so my dad will never be there to see anything else published. What gives me content somewhat is the realisation that he knew I took his advice and began submitting fiction, and he was around to see me as a published writer, albeit on a small scale.
TBG: Which book has influenced your thinking, and your writing, more than any other?
SB: There are probably two that spring to mind. In the late 80s I was reading Guy N Smith, James Herbert, and Stephen King (and loving them all), and I wandered out of a bookshop clutching 'Dark Feasts' by Ramsey Campbell, and Charles L Grant's 'Tales From the Nightside'. Both these collections opened my eyes to what the short story could achieve.
TBG: Your own fiction tends to be broad in theme. What kind of stories interest you?
SB: My stories range from pulp horror, through traditional ghost stories, to dark fantasy and science fiction. The science fiction part doesn't really interest me, but as long as there's a horror element to it – and I'm an advocate of what Douglas Winter famously said, that horror is simply an emotion rather than a genre, and can exist in any kind of story – then I'm there. I tend to look for darkness everywhere. I do enjoy a bit of bleakness, I'm afraid. My own fiction reflects what I like to read; sometimes unsettlingly oblique, sometimes visceral and gruesome. I would hate to settle into one type of story.
TBG: Who do you like to read, both inside and outside the genres?
SB: I enjoy writers who appear to work outside the genres but don't really, like Daphne du Maurier, Carlos Ruiz Zafon, John Connolly, Barbara Vine, David Peace, Kazuo Ishiguro, and Ian McEwan. Within the genres I'd say - in no particular order - Ramsey Campbell, Joel Lane, Conrad Williams, Stephen King, Tim Lebbon, Harlan Ellison, Kealan Patrick Burke, M John Harrison, D F Lewis, Mark Samuels, Ray Bradbury, Michael Marshall Smith, Graham Joyce, Gary Braunbeck, Christopher Priest, Thomas Ligotti and Christopher Fowler. Then there's the 'newer breed', who are doing so much fantastic stuff in the small press; Steve Duffy, Gary McMahon, Paul Meloy, James Cooper, Allyson Bird, Reggie Oliver, Mark West, Robert Shearman, Simon Strantzas, John Llewellyn Probert, Simon Bestwick, Gary Fry, John Travis, Richard Gavin, etc. I literally could go on and on all night. This is turning into just a list of names! As you can see, I'm an avid supporter of the small presses. Even though the global economic situation is poor, the small presses are constantly evolving, always shifting. It's an exciting scene, driven by passionate people, rather than businessmen and focus groups.
TBG: What have been the highs and lows of your writing experience so far?
SB: Lows have to be the nagging feeling that you're not good enough, that those mounting rejections are there for a reason. Sometimes though, you'll get rejections that are incredibly helpful; I've had stories bounced by Barbara Roden of Ash Tree Press, and Gray Friar's Gary Fry, and both rejections were constructive and encouraging. By taking their advice I managed to sell those stories elsewhere.
What drew me into writing in the first instance was a love of the genre, relishing that thrill that a particular novel or short story gave me. I've received emails from readers who've enjoyed my own stories in a similar way. That's an incredible compliment, and if I'm honest, that means more to me than actually being paid for the story (don't tell the editors!).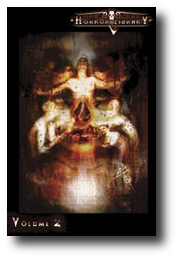 TBG: What are your plans for the future?
SB: Definitely to keep writing. I've only been in the game for a few short years, but it's given me enough to know that it's something that I want to do for the rest of my life. I've noticed that as my confidence increases my word count rises, so I'm naturally writing longer, more ambitious fiction. I'm currently shopping round proposals for a possible short story collection to various small press publishers. I'm writing a novella-length horror tale set in Rwanda during the 1994 civil war, and I'm pleased with the progress so far. Long term, I'm also working on a novel called 'The Flickering', which is a supernatural story about a group of kids growing up in a small pit town during the 1984 miner's strike. And loads more short stories. Whether any of these projects will ever bear fruit, only time will tell. All I can say is that I'll enjoy myself while I'm at it.
Visit
Stephen Bacon's website
--Steven Jensen
(The Black Glove thanks Stephen Bacon for his time and efforts)