Dethklok: Dethalbum II
Review written by Steven M Duarte
There's no denying the popularity of the virtual heavy metal band Dethklok. The show Metalocalypse has been renewed for a third season on Adult Swim and the fictional band is currently on tour supporting Mastodon. Series creator Brendon Small brings us the second full length album from Dethklok. This sophomore effort from is definitely an upgrade over the first Dethalbum. While I did enjoy the first Dethalbum I treated it more as a companion to the cartoon show. Dethalbum II breaks from this mold as it truly stands on its own as a heavy metal album. While giving the album repeated listens, I often forgot that I was listening to Dethklok. This album could hold its own against such bands as Arch Enemy and Children of Bodom.
The album starts off strong with tribal drumming on "Bloodlines." The double pedal drumming done by former Strapping Young Lad drummer Gene Hoglan adds to the great production of the album. Much like the cartoon show, you will find yourself headbanging to the thunderous drumming and guitar solos. Dethalbum II also includes much more keyboard work this time around which is a welcome addition. Other standout songs on the album include "The Gears," "Burn the Earth," and "Murmaider II: The Water God," which is part two of the first albums song Murmaider. The difference in song composition between Murmaider 1 and 2 really shows how much the music has matured with Dethalbum.
Dethalbum II does retain the over the top song names and lyrics that were prevalent on the first album. While this may be considered corny for a band such as Dimmu Borgir or Nile, it works for Dethklok as their show portrays themselves as laughable heavy metal heads. This album has garnered repeated listenings from me as I have accepted Dethklok as a formidable heavy metal band. I still get amazed at the fact that one man plays majority of the instruments in creating this monstrous album. I would definitely recommend this album over their first due to the more mature sound and overall better compositions of the songs.
Track List
1 "Bloodlines"
2 "The Gears"
3 "Burn the Earth"
4 "Laser Cannon Deth Sentence"
5 "Black Fire Upon Us"
6 "Deth Support"
7 "The Cyborg Slayers"
8 "I Tamper with the Evidence at the Murder Site of Odin"
9 "Murmaider II: The Water God"
10 "Comet Song"
11 "Symmetry"
12 "Volcano
http://www.dethklok.org/
--Steven M Duarte
The 69 Eyes: Back in Blood
Review written by Steven M Duarte
The Helsinki Vampires are "Back in Blood," with their newest release. The once glam rock metal act from Helsinki, Finland delivers a decent album worth giving a listening to. Upon first listen to this album, you will notice that the sound is much more upbeat than previous releases from the band. This would not coincide with the title of the album since The 69 eyes popularity was gained with their older gothic sound. They still retain some of their gothic sound and themes with songs titled "Dead Girls Are Easy," and "Kiss Me Undead." The band definitely wanted to evolve their sound with this new album and they made their point with the title track "Back in Blood." The song begins with a fade in of a rhythm guitar track playing in the background. Lead singer Jyrki 69 comes in with his Jim Morrison like tone, letting everyone know they are back. The band chose to work with Grammy award winning producer Matt Hyde. Their choice was well made as the production values are top notch.
A majority of the album includes upbeat songs including the single "Dead Girls Are Easy." What I did find surprising is that many of the songs are catchy. The 69 Eyes have not been known for catchy songs. The inclusion of a more mainstream producer could push away some fans of the old gothic sounding 69 Eyes. Back in Blood really does tailor to the mainstream. The argument can be made that the titles of the songs are very gothic sounding but they just don't have that dark edge that their older work screamed of. The closest sound of the old 69 Eyes would be the slower tracks "Nightwatch, Hunger, and Eternal."
One point I would like to get across is that I understand completely that over time bands evolve and start to sound different. My only issue with this album is the reason they hooked me in as a fan was their slow gothic sound. Songs such as Brandon Lee, Gothic Girl, and Wasting the Dawn," made me an instant fan. With "Back in Blood," the band has taken more of a step towards their older glam metal sound. This can be good or bad depending on your overall outlook towards the band. Almost every band reaches that point of turning mainstream and The 69 Eyes seem to have reached that point. This album would definitely be a good listen for someone looking for new music to discover considering its mainstream appeal. I do recommend also picking up The 69 Eyes best of album "Framed in Blood – The Very Blessed of The 69 Eyes," to hear their signature gothic sound.
Track List
1."Back in Blood"
2."We Own The Night"
3."Dead N' Gone"
4."The Good, the Bad & the Undead"
5."Kiss Me Undead"
6."Lips of Blood"
7."Dead Girls Are Easy"
8."Night Watch"
9."Some Kind of Magick"
10."Hunger"
11."Suspiria Snow White"
12."Eternal"
http://www.69eyes.com/
--Steven M Duarte
Towards the Within (1994)
Dead Can Dance
Review by Nickolas Cook
Dead Can Dance is legendary for being able to pull together divergent world music influences to create music that sounds as large as the world in which they exist. There is a moody darkness that pervades their collected works that speaks to the human spirit. Up until 1994, most of their fans had to imagine what these strange sounding musicians might look like. Other than a few unrevealing sleeve photos, there wasn't much to go on. But with the live 1993 show they performed at the Mayfair Theater in Santa Monica being put on VHS and DVD, fans need guess no longer. But besides, this live album finally giving face to a group of extraordinarily talented musicians, it also gave many fans the first taste of live music from these guys.
And what a taste!
'Towards the Within' is easily one of the best live albums ever recorded. There must have been magic that night. Every songs was recorded in one perfect take. Lead vocalists Bredan Perry and Lisa Gerrard have never sounded so ethereal and other wordly as they do on 'Towards the Within'.
But besides being a great live set, this also plays out as a best of album.
With such classic songs as 'Rakim', 'Yulunga' and 'Cantara', you get the a sense of what this band was capable of at the height of their abilities.
If you only get one Dead Can Dance album (and shame on you if that's true), make it this excellent live album.
Tracks:
"Rakim"
"Persian Love Song"
"Desert Song"
"Yulunga (Spirit Dance)"
"Piece for Solo Flute"
"The Wind That Shakes the Barley"
"I Am Stretched on Your Grave"
"I Can See Now"
"American Dreaming"
"Cantara"
"Oman"
"The Song of the Sibyl"
"Tristan"
"Sanvean"
"Don't Fade Away"
Discography:
Dead Can Dance (1984)
Spleen and Ideal (1985)
Within the Realm of a Dying Sun (1987)
The Serpent's Egg (1988)
Aion (1990)
Into the Labyrinth (1993)
Toward the Within (1994)
Spiritchaser (1996)
http://www.deadcandance.com/
--Nickolas Cook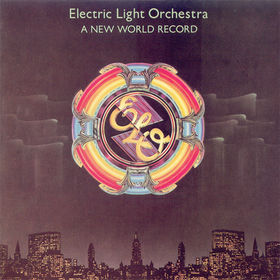 A New World Record (1976)
Electric Light Orchestra
Review by Nickolas Cook
To say convey what a significant impact this album had on my childhood is almost impossible. I colored how I looked at music for the rest of my life, to say the least.
And one can almost draw a direct line from them to my love for groups like Radiohead. They both treated tradition as a springboard for individualism and testing the waters of experimentalism in mainstream music.
In the 70s, there was no other band that was doing what Jeff Lynne and crew were doing. They had taken the odd orchestral bits from the classic Beatles catalogue and turned it into a new style of rock and roll music. And they were huge. Gold and platinum albums followed one upon the other, as US and UK listeners eagerly awaited the next sci-fi concept album.
But within all this new age, sci-fi, string and electronica experimentation, Lynne was writing songs about loneliness, lost love, and emotional isolationism in that 70s age of free love and disco music. His hooks were catchy, but it was the lyrics that kept people coming back for more.
With 'A New World Record', all of those elements seem to gel to create something bigger than the individual parts.
There are no bad songs, and many of them lead logically right into the next one.
The stirring use of classical music as bridge, as hook and as end note are inspired and no band has yet to top what these guys could do with a couple of violins, cellos and a keyboard. It is sublime and beautiful, while remaining uniquely rock and rolla.
Track Listing:
1. "Tightrope"
2. "Telephone Line"
3. "Rockaria!"
4. "Mission (A World Record)"
5. "So Fine"
6. "Livin' Thing"
7. "Above the Clouds"
8. "Do Ya"
9. "Shangri-La"
Discography:
The Electric Light Orchestra (UK) / No Answer (US) (1971/1972)
ELO 2 (UK) / Electric Light Orchestra II / ELO II (US) (1973)
On the Third Day (1973)
Eldorado, A Symphony (1974)
Face the Music (1975)
A New World Record (1976)
Out of the Blue (1977)
Discovery (1980)
Xanadu (1980)
Time (1981)
Secret Messages (1983)
Balance of Power (1986)
Zoom (2001)
http://www.elomusic.com/
--Nickolas Cook