Behemoth - Evangelion
Polish Metal heads Behemoth is not for everyone. I honestly did not like them the first time I listened to one of their albums. Their 2007 album "The Apostasy," is what made me a fan. It was then that I purchased their back catalogue and actually got a chance to see them live when they toured with Dimmu Borgir. Behemoth has now released their newest album titled Evanelion. So how does it fare to their previous albums? Well it really is a mixed bag. This is one of their shortest albums with 9 tracks coming in at 41.9 minutes long. In the many listening that I have given to this album, I was often surprised at how quickly I had listened to the entire album in one sitting. Behemoth has not been known for creating Dream Theater length songs but I would have liked to see additional tracks included on this album. Different retailers offered an additional bonus track with purchase of the digital version of the album. Even with the additional track the album is still short.
All complaints aside the album is classic Behemoth. This album, along with "The Apostasy," is a good one to start out with if you are new to the band. The cookie monster vocals of lead singer Nergal has been toned down a bit from their previous releases. This makes them a little easier on the ears. The brutal assault of drummer Inferno is really something to hear as he has been called one of the fastest drummers in metal. His mastery of the double bass pedal puts up notes that leave other drummers in the dust. The track "Ov Fire and The Void," gives you a taste of what he can do. This track is my favorite off the album with its haunting guitar riffs and solos.
Overall they have enough variety within this album to avoid having every song sound the same. Behemoth continues their anti Christian lyrics and themes with songs such as "Lucifer," and "Defining Morality OV Black God." Regardless of your stance on religion you don't have to worry when listening to a Behemoth album as the lyrics are hard to understand. The last track of the album is an appropriate send off with its slowed down tempo and ghostly hymns.
Discography
Sventevith (1995)
Grom (1996)
Pandemonic Incantations (1998)
Satanica (1999)
Thelema.6 (2000)
Zos Kia Cultus (2002)
Demigod (2004)
The Apostasy (2007)
Evangelion (2009)
Behemoth's official web site
--Steven M Duarte
Ride - Nowhere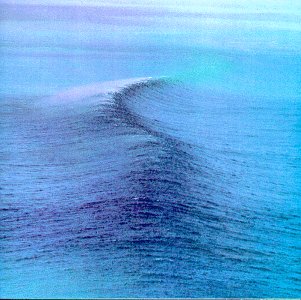 Following a steadfast British musical tradition, members Andy Bell and Mark Gardener met in art school, where they recruited Laurence Colbert and Steve Queralt to form Ride, a band that would go on to create a unique sound in British music and nearly become the biggest sound in alternative music.
With the release of their first EP, they were already honing that sound, and garnering attention from fans and music press alike. Taking most of their material from various EPs over a year's time, and adding a few original songs to the mix, they released this brilliant album, NOWHERE. From there, it was music history, as they took the British music scene by storm, and finally made their way to the States to catch the eager ear of the critics, and even getting a minor U.S. hit with "Taste" and scoring an MTV hit with "Vapour Trail".
It seemed clear to everyone that Ride was poised to become the next-big-thing.
Then along came the grunge movement to wipe most aspiring shoe-gazer bands from the U.S. charts, as every label scurried to find the next-big-Nirvana, instead.
NOWHERE is an album of transient beauty. It never finds a dull niche sound and coasts along. There are moments of pure musical genius, as Andy Bell laments love, loss, and life. The ethereal jangle guitar riffs and solid drums weave in and out of the foundational bass work. Some of the best I've ever heard; nothing overly ornate; just damned fine playing that fosters the music.
This is an album meant for late night drives and rainy days, broken hearts and lust filled nights.
Stand out tracks…erm…all of them. Seriously. This is the best album they ever produced and most fans agree that they never sounded as tight and wonderful as NOWHERE on subsequent albums. Get this album. Even if you don't like shoe-gazer music, you'll love this album for its pure beauty of construction and tonal quality.
Discography:
Ride (EP) (1990)
Play (EP) (1990)
Fall (EP) (1990)
Nowhere (1990)
Today Forever (EP) (1991)
Going Blank Again (1992)
Smile (1992)
Carnival Of Light (1994)
Live Light (live) (1995)
Tarantula (1996)
OX4 - The Best of Ride (Box set) (2001)
Coming Up For Air (EP) (2002)
Waves (2003)
Ride's official web site
--Nickolas Cook
Yes - Yessongs
If you're building that classic rock collection, then YESSONGS is a superb double disc live album that could easily be considered a 'best of' for Yes' early works—to some their only relevant work. YESSONGS is also a definitive moment in prog-rock history, the songs structured to maximize the poly-rhythmic interchange between keyboard, bass, and drums- that musical hinterland where groove takes precedence over lyrical meaning and logic. The vocal work isn't quite as sharp as their studio albums, but what they lack in perfect harmony, they more than make up for with pure musicianship. There are elements of jazz doodling along side classical guitar riffing and they tend to take off and make the feel somehow larger than the studio versions. Unlike most live albums, the audience is barely heard and they aren't used to make the listener feel as if they've missed something big. It may suffer from time to time with the 60s flower power hangover, but don't let that fool you. There is some true power here to soak up. No one else could pour on the keyboards and classical references with quite the same panache, with the exception of Emerson, Lake, and Palmer. Each track is a standout production and they truly rise when they meander to a conclusion.
This live set is a showcase for the exciting qualities that are missing in their later works, as they moved towards more radio-friendly musical encapsulations (90125 anyone?). This is a moment in time when they could not wished for a tighter sound and solidarity. Later the band went through several personnel changes and had much trouble with lawsuits amongst themselves about rights and money.
So taste the grand buffet of lavish pro-rock that was Yes and add this to the collection of essential albums.
Discography:
Yes
Time and a Word
The Yes Album
Fragile
Close to the Edge
Tales from Topographic Oceans
Relayer
Going for the One
Tormato
Drama
90125
Big Generator
Union
Talk
Open Your Eyes
The Ladder
Magnification
Live albums:
Yessongs
Yesshows
9012Live: The Solos
Keys to Ascension
Keys to Ascension 2
House of Yes: Live from House of Blues
Yes' official web site
--Nickolas Cook