compiled by Steven M. Duarte and Nickolas Cook
Not much to offer in book news.
Apparently, struggling authors in the horror genre don't cotton much to free advertisement for their products.
But I sure have no problem crowing about my own new release from Coscom Entertainment, ALICE IN ZOMBIELAND, a mashup novel by Lewis Carroll and myself, which tells the story of young Alice's adventures in an undead world known as Zombieland. Can she escape the murderous mistress of the flesh eaters, the RED QUEEN, before it's 'off with her head!'?
Alice in Zombieland by Lewis Carroll and Nickolas Cook is now available at the following on-line retailers:
Paperback:
Amazon.com
Amazon.ca
http://www.bestwebbuys.com/9781926712291">Other On-line Retailers
eBook:
Amazon Kindle
Drivethruhorror.com
Mobipocket.com
Synopsis:
Can Alice escape Zombieland before the Dead Red Queen catches up to her?
When little Alice falls asleep, she finds herself in an undead nightmare of rotting flesh and insanity. Following a talking rat, she ventures further into this land of zombies and monsters.
There's also something else troubling poor Alice: her skin is rotting and her hair is falling out. She's cold and there's the haunting feeling that if she remains in Zombieland any longer, she might never leave and forever be caught between life and death.
Have a seat at the table for the Tea Party of your life and explore the wondrous adventure that is Zombieland.
And we did get one other item of interest from Novello Publishers in which they announce an all new novella of humorous horror:
ZOMBIE BASTARD by Jerrod Balzer (to be released mid January)
Synopsis:
A delayed curse is taking effect, engulfing a Missouri town with the undead. Leading the onslaught is a creature that lacks mercy or compassion, only an intense drive to see the curse through. Its fate was sealed years ago, simply for being born a…
Bastard
Trevor is dealing with a curse of his own: he has the runs. On a desperate trek to visit his ailing mother, he searches for a decent place to relieve the pressure before moving on. All he wants is to have a movement in peace, but that Zombie Bastard won't let him.
$11.00
Pre-order here
But this should be of interest to all hardcore horror genre fans. Seems as if some smart cookie finally decided to bring back Uncle Forry's greatest contribution to the genre: Famous Monsters of Filmland.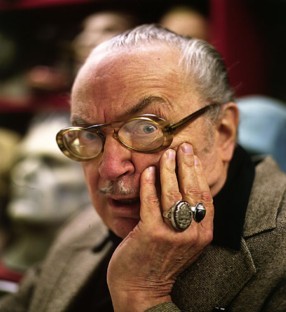 Anyone over 30 probably is probably familiar with Famous Monsters of Filmland and what Forry Ackerman did for so many of us young fans back in the day. After his death in December of 2008, it looked as if this treasured publication would never again see the light of the full moon, but here's to hoping this one sticks for good and the publishers get plenty of subscribers to keep it going strong.
Check 'em out here and cross your bloody fingers.
In movie news...
Daybreakers
Release date: Jan 08, 2010
Starring: Ethan Hawke, Willem Dafoe, Sam Niell
This film follows a somewhat new premise for vampire films. The vampires are the majority while actual humans fall within the minority. They use the remaining humans for food but find that they are quickly running out of their human stock. Willem Dafoe plays his unintentional creepy guy character as he has done so well in many other films.
Let Me In (Remake)
Release date: Jan 15, 2010 (tentative)
Starring: Kodi Smit-McPhee, Chloe Moretz, Elias Koteas
Cloverfield director Matt Reeves takes on the task of remaking the already awesome Swedish film Let the Right One In. Reeves received criticism before production even began as people felt the original was excellent on its own. It will be interesting to see how the Cloverfield director takes on this masterpiece.
There is currently no posted trailer for this film.
The Book Of Eli
Release date Jan 15, 2010
Starring: Denzel Washington, Gary Oldman, Mila Kunis
Denzel Washington stars in this post apocalyptic film about finding a book that will save the human race. Not sure I buy the whole Washington as a martial artists but I will give it a shot considering Gary Oldman also stars.
Legion
Release date Jan 22, 2010
Starring: Paul Bettany, Dennis Quaid, Tyrese Gibson
This take on the end of the world follows god's plans to exterminate the human race on earth. A group of survivor's band together to fight the angels who have been sent to carry out the extermination, a nice alternative take on the rapture.
--Steven M. Duarte