compiled by Nick Cato
Many authors have told me they need complete silence when they write. While I do need it for revisions and final drafts, I actually require background music while I work on first drafts. Nothing gets me more into what I'm doing than music I can envision in certain scenes I'm working on.
Here's the top 13 songs I find myself going back to again and again when I sit down to belt out a first draft (listed in no particular order of importance)…
1) Goblin's amazing soundtrack for Dario Argento's SUSPIRIA (1977) is not only the creepiest music ever written for a horror film, it's an incredible horror-muse-assistant. Although all 12 tracks on the original soundtrack album are great, the main track (titled—what else—SUSPIRIA) manages to inspire me as it continues to give me the chills over 30 years since I first heard it.
2) AT DAWN THEY SLEEP. While this track from Slayer's 1983 album 'Hell Awaits' sounds (musically) like most of their other songs, the lyrics (dealing with vampires and zombies) are done seriously, and there's a rare slow part toward the middle that blends creepiness and heaviness in a way that gets my creative juices flowing.
3) DEATH VALLEY 69. Love them or hate them, Sonic Youth have always had the ability to disturb the listener…and this tribute to the Mansion massacre (with it's heavy bass line and distorted feedback guitars—not to mention guest vocals from Lydia Lunch) is as spooky as meeting Charlie himself in a dark alley. From their 2nd album, Bad Moon Rising (1985).
4) DARK ENTRIES. Even if Goth isn't your thing, I can't see any horror fan not getting a rise out of this Bauhaus classic. Along with the down-tuned guitar, Peter Murphy's baritone voice is the closest thing to a "real" Dracula ever recorded. Bleak lyrics and a spoken mid-section always get me in the proper mood to pen the more unpleasant passages. (Available on the CD collection, BAUHAUS: THE SINGLES: 1979-1983).
5) FRANKENSTEIN GIRLS WILL SEEM STRANGELY SEXY. I'm listing an entire ALBUM here as this 1999 release from Mindless Self Indulgence features so many wild tracks it's hard to mention just one. Suffice it to say, I like to play 'Planet of the Apes,' 'I Hate Jimmy Page," and '7-11' when I'm doing my more bizarre material.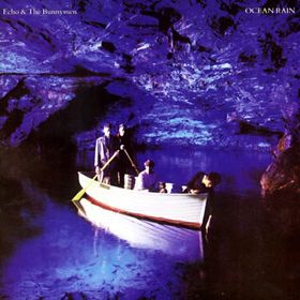 6) CLAY. Echo and the Bunnymen manage to get under the listener's skin with this track from their 3rd album, 'Porcupine.' CLAY sounds a bit different from the band's usual pop anthems in its off-key riff and overall eeriness. I've kept this song on a continual loop many times during some late-night writing marathons (and will most likely continue to do so).
(Sorry, no video available for this song)
7) If I had to pick the A-#1 song I usually find myself writing to, it'd have to be ALBA DEI MORTI VIVENTI, another amazing song by the Italian band Goblin. This is the main theme song from George Romero's 1979 classic DAWN OF THE DEAD. Its steady heart-beat bass line and spooky keyboards provide the ultimate background music for anyone attempting to pen dark fiction.
8) THIS CORROSION is an addictive track from Sisters of Mercy's 1987 semi-hit album "Floodland." Singer Andrew Eldritch's voice is (arguably) the most vampiric next to Peter Murphy's, and backing vocals from (then) new member Patricia Morrison are to die for.
9) MARLEY'S GHOST. From her 1997 debut album, Kristeen Young takes her amazing voice to the limit in this study of mental and spiritual struggles. Along with her unique keyboard style, this one contains a few screams that send genuine shivers down your spine. How she used to pull this one off live (without losing her voice for the rest of the show) is anyone's guess.
10) DIABLOS '88 is an instrumental from 'November Coming Fire,' Samhain's 2nd album. With its Western-style and chants in the background, I often place this one at the start of my writing playlist as it has that certain thing that manages to get your butt in gear. (Amazing: I listed a Glen Danzig song that doesn't feature his legendary vocals!)
11) NOW I'M FEELING ZOMBIFIED. Techno-Goth hybrids Alien Sex Fiend are truly an acquired taste. They've release several albums since the early 80s, but this song (originally featured on a 12" vinyl single) is the epitome of their sound. Dawn of the Dead-ish keyboards, a driving beat, and Nik Fiend's screeching space vocals (not to mention an 8+ minute length) make this a good one for long stretches of pen-to-paper (or finger-on-keyboard) madness.
12) RUNNING TOWN. Man, do I have a lot of Goth here. This track from Siouxsie and the Banshees' 1984 album 'Hyaena' is an upbeat and haunting one that many of her fans seemed to have forgotten. It keeps my words flowing every time…
13) INTO THE VOID. Is there a horror writer out there who hasn't in SOME way been inspired by Black Sabbath? (Of course there are…although I like how that sounded as an opening sentence). While I like several other Sabbath songs more than this, VOID's opening guitar riff has HORROR written all over it, and the flow of the vocals (when they finally kick in) manages to help my word count pile up.
--Nick Cato
(The Black Glove wishes to thank new staff writer Nick Cato for giving us his top ten Horror Playlist for this month. We welcome this new Horrorhead extraordinaire to the magazine with open and bloody arms. And for the coolest, hippest Horrorhead site on the net, stop by and check out Nick's blogspot,
ANTIBACTERIAL POPE
.)